Model and ex-singer Hannah Lewis framed innocent driver in Cornwall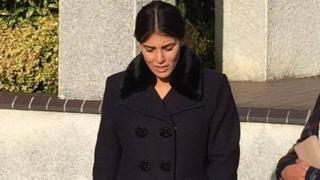 A model and former singer has been sentenced for falsely claiming somebody she had never met was driving at the time of a speeding offence.
Hannah Lewis had earlier admitted perverting the course of justice. She was given a suspended jail sentence.
She had been caught speeding on the A30 in Cornwall, an offence that would typically earn three penalty points.
The judge at Truro Crown Court said "the circumstances are as mystifying as they are depressing".
Lewis, 38, from Ascot, Berkshire was in a group called Pop! which had three top 40 hits in 2004 and 2005.
More on mystifying model perverting course of justice and other Cornwall stories
Her website lists work she has done as a TV presenter on channels including MTV, and modelling work for TV adverts and several magazines.
The court heard that she was caught doing 82mph on a 70mph road in a BMW near Launceston in February 2016.
When she received notice of the offence in the post, she nominated a woman she had never met who lived in Nottingham, but gave a false address.
Innocent woman
Philip Lee, prosecuting, said this meant the woman never received any notices, and was convicted in her absence in August 2016.
The woman only learned of it after this, when a letter was sent to her actual address in Kent, at which point she contacted police.
Lewis continued to deny her involvement, but officers used phone records to prove she was at the scene at the time of the offence.
She was given an eight-month jail sentence, suspended for two years, and ordered to pay £500 compensation to the woman she falsely named as the driver.
Sentencing, Judge Simon Carr said that Lewis had "attempted to frame somebody entirely innocent", adding: "You then attempted to lie your way out of it."