Google puts King Arthur's Tintagel Castle in Swindon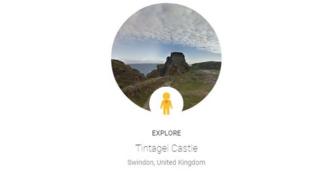 Tintagel Castle, reputed to be the birthplace of the legendary King Arthur, has been erroneously placed in Swindon by Google.
The mistake was spotted on the new online pages which Google and English Heritage produced of historic attractions.
The castle is of course in Cornwall, but Swindon's hopes of a tourism boost were short-lived.
"We're aware of the issue," said Google, which has now fixed it.
It said the location had got confused with English Heritage's office in Swindon.
More on this story and others from Cornwall
A spokesman for Swindon Borough Council said the "fantastic" town "would be more than happy to welcome any fans of King Arthur".
And for castle fans "we also have our own fortress in the shape of Barbury Castle".
Carolyn May, clerk of Tintagel Parish Council said: "I don't think there's much comparison.
"Tintagel Castle could not be much more removed from Swindon and anyone hoping to find the castle in Swindon will be very disappointed."