'No police' for 999 calls in Cornwall, warns sergeant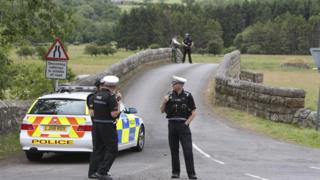 A police sergeant warns resources are so stretched by budget cuts, there are sometimes no officers to respond to emergencies in Cornwall.
Falmouth and Helston Sgt Mark Cooper is reported to have told councillors "the box is empty" with "no one available this side of Plymouth".
A council panel meeting was convened to discuss policing in isolated areas.
Devon and Cornwall Police said the comments had been taken out of context.
More on this and other stories in Devon and Cornwall
Cornwall Live reported that Sgt Cooper told the Helston and South Kerrier Community Network Panel: "We've got a reduction in numbers. It has reduced over a number of years. Unfortunately, I think the NHS and ourselves all in the same situation."
The force's Chief Superintendent Jim Pearce said the force worked hard to ensure as many officers were available as possible and there were always officers on hand to respond to the "most urgent" calls.
"Whilst we acknowledge that at times we are stretched as a force, this is echoed nationally but we are confident that we use the resources available to protect the public of Devon and Cornwall," he said.
'Out of context'
He added that a "threshold of officers" was maintained in the Falmouth and Helston area "to ensure adequate cover is provided".
"We prioritise resources according to threat, harm and risk which is particularly important at times of high demand." he said.
"There are always officers to respond to the most urgent calls for our help. The comment made by Sgt Mark Cooper was therefore taken out of context."
He added that the force had a very high level of public satisfaction and public support.