Tate St Ives in Cornwall to open £20m cliff-face extension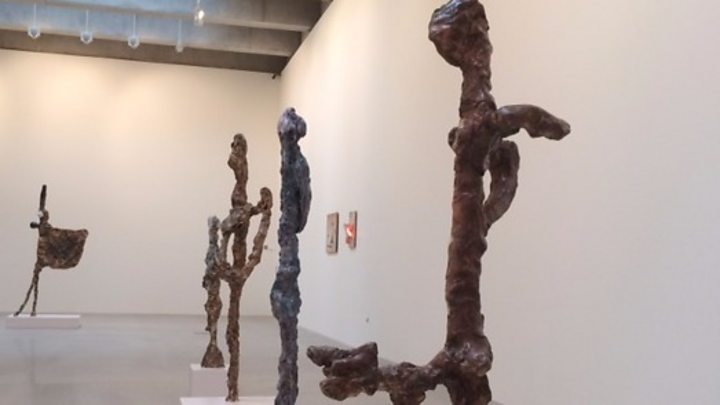 A new £20m extension to the Tate St Ives art gallery in Cornwall has been unveiled.
The extension, which opens to the public on Saturday, creates nearly 600 sq m (6,460 sq ft) of extra space.
It has been built into the cliff face after local objectors said the scheme would block views of the sea and take up car parking space.
The extra space will allow the gallery to remain open all year instead of closing while exhibitions are changed.
More on the £20m extension, and other Devon and Cornwall news
It will also give more space for local artists to display their work.
Tate executive director Mark Osterfield said the concerns from residents meant they have ended up with a "better site in a way that delivers better for us and for the wider community".
He said the extension also addressed previous criticisms of the gallery.
"People were disappointed - we were closed for six weeks a year - we won't be closed any more," he said.
"They came to see the St Ives artists, we can show the St Ives artists now, and they also came to see international, modern and contemporary exhibitions.
"We're actually delivering what I think people expect from Tate."
Tate St Ives extension timeline
1993: Tate St Ives opens
2004: Competition announced for new extension
2005: Jamie Fobert Architects win competition to design new extension
2011: Project dropped after objections
2012: Fobert wins new competition for extension
2013: Work starts on new extension
14 October 2017: New extension opens to public
The new extension was designed by Jamie Fobert Architects, whose original plans in 2005 were dropped after objections.
Builders had to dig down 15m into the cliff face, excavating 977 lorry-loads of granite to create the four-storey extension.
Where did the cash come from?
Public sector:
The Coastal Communities Fund - £3.87m
The Heritage Lottery Fund - £2.78m
Arts Council England - £4m
The Department for Digital, Culture, Media and Sport/Wolfson Museums and Galleries Improvement Fund - £125,000
Private sector:
The Headley Trust
Clore Duffield Foundation
The Foyle Foundation,
The Ronald and Rita McAulay Foundation
Lord and Lady Myners of Truro
Garfield Weston Foundation
Initial excavations revealed unexpected amounts of Cornish greenstone, a particularly hard granite, which required more work than had been anticipated, the Tate said.
The redevelopment also features new offices and a loading bay and space for workshops and other artistic activities.
The new extension opens with sculptor Rebecca Warren's solo exhibition.
St Ives extension in numbers:
Numbers of visitors each year: About 250,000
Estimated value to local economy every year: £11m
Size of new extension: 600 sq m (6,460 sq ft)
Amount of rock removed 922 lorry loads of granite and spoil
Depth of excavations: 15 m (50ft)
Figures: Association of Leading Visitor Attractions/Tate St Ives