Wadebridge garage murder: Victim 'predicted' killer's identity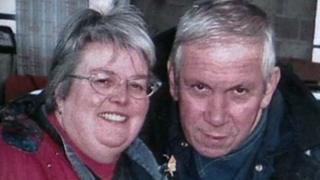 A man who was shot and bludgeoned with a sledgehammer had told a friend he feared he would be killed by someone he knew, the BBC has learned.
Graham Fisher and his wife Carol were murdered in their home near the petrol station they ran in Cornwall in 2003.
Lee and Robert Firkins were jailed for life in 2006. Their solicitors said the revelation made by the victim's friend could "add weight" to an appeal.
Police said the original witness statement does not mention his claim.
More on the garage murder, and other Devon and Cornwall news
Mr Fisher allegedly revealed in a conversation decades earlier that should he ever be murdered, it would be by someone close to him.
"He actually forecast what might happen in the future," said the friend, who wanted to remain anonymous.
"He had started to tell us why he had moved from Kent to Cornwall and said, 'In fact, if anyone murders me in the future its likely to be...' and then the conversation was stopped by his mother.
"She said, 'Don't tell him because then he will be involved'."
'Specific reason'
The friend said he told police about the conversation in 2003, shortly after the murders, but "nothing much happened".
Devon and Cornwall Police said his statement did not contain a specific reference about who the killer might be.
A spokesman said: "An appropriate summary of the statement was disclosed to both defence teams prior to the trial."
The force added it had always "supported and responded" to any requests to "further review or supply material" on the case.
The Firkins have always denied repeatedly shooting the couple, claiming they were at a pub and seeing relatives.
They were convicted after a former cellmate of Robert Firkins told the police he had confessed to the crime.
Lawyer Jane Hickman, who represents Lee Firkins, said she would speak to more witnesses before taking further action.
"It adds weight to the line of inquiry we have been pursuing in the past few years about the Fishers' past," she said.
"We're hoping other people will come forward. Weight is gathering for a specific reason for the killing."
The Criminal Cases Review Commission has so far decided against sending the case to the Court of Appeal.
But the defence team has made two challenges, including one for DNA evidence be re-examined.
They also questioned the reliability of evidence of a witness, referred to as Witness Z, after he was convicted of working as a hitman and carrying out a murder.
The case is still under review by the Criminal Cases Review Commission.
Inside Out South West is on BBC One on Monday 9 October at 19:30 BST and on the iPlayer for 30 days thereafter.