Falmouth sea swimmer Paul Fehrenback, 80, 'sorely missed'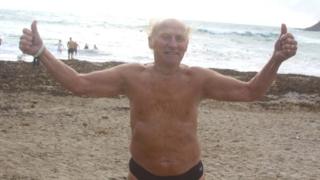 An 80-year-old sea swimmer who died after being pulled from the water unconscious has been described as an "all-time legend".
Paul Fehrenback was rescued by a member of the public at Falmouth, Cornwall, on Sunday, but died in hospital.
The Swanpool Beach Cafe posted on Facebook that he was famous for his "speedo clad dips in the sea come rain or shine, summer or winter".
It said the community had lost "a member of the family".
More on tribute to swimmer and other Cornwall stories
A search and rescue helicopter and paramedics were called to Swanpool beach and Mr Fehrenback was taken to hospital in Truro.
He was described by others who paid tribute as "a real personality" and "such an awesome man" who will be "greatly and sorely missed".
Mr Fehrenback also "kept discipline" on Swanpool beach's bouncy castle "in his own unique and caring way," and was known to some people as Bouncy, a cafe spokesperson said.