Uncle and niece guilty of incest in Cornwall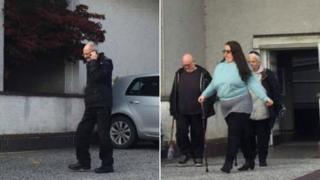 An uncle and his niece have been sentenced for having consensual sex with each other.
Katie Buscombe, 25, and her uncle Philip Buscombe, 57, both previously pleaded guilty to the charge of having sex with an adult relative.
The offences happened while they were living together in Cornwall between August 2012 and August 2013.
Passing sentence the judge said they were fully aware it was wrong and they were both given community orders.
More on incest case and other Cornwall stories
Judge Robert Linford was also critical of the Jeremy Kyle show, after Mrs Buscombe appeared on it claiming that she did not know who her biological father was.
He continued : "Why the makers of a TV programme think there is money to be made from people such as you is entirely beyond me."
The court heard Philip Buscombe's brother was the defendant's biological father.
The judge told them: "You both knew it was wrong but nevertheless you did it".
Falsely pleaded ignorance
Her mother raised concerns with social services when the uncle and niece were living together at an address in Bugle, Cornwall.
Ms Buscombe initially denied being in a relationship, but later said she did not know Mr Buscombe was her uncle - a claim that was untrue.
She is now married to another man and was given a 12-month supervision order.
Mr Buscombe, a tractor driver from Cornwall, was also given a 12-month supervision order and ordered to complete 100 hours of unpaid community work.