Schoolboy crushed by art exhibition at Penrice Academy, St Austell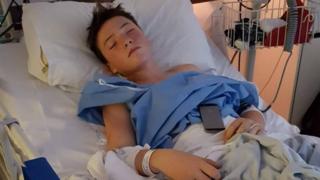 A pupil has been crushed by a falling art display at school, leaving him with potentially life-changing leg injuries, his parents have claimed.
Medics compared the injuries to "being in a head-on car crash", they said.
Rugby player Morgan Durant, 15, was flown by air ambulance from Penrice Academy in St Austell, Cornwall, to Derriford Hospital in Plymouth.
The Health and Safety Executive (HSE) is investigating and the school has yet to comment.
Morgan's father, Rob Durant, said his son's right leg was broken and he had a possible fracture in his left leg too.
A metal plate has been inserted into the boy's right leg from above the knee to the ankle.
More news from Devon and Cornwall
Morgan was a keen rugby player who had represented his school and also played for the Newquay Hornets club side.
Mr Durant said: "If the metal plate stays in it will rule out any sports forever."
He said Morgan would not be able to walk for at least eight weeks and the injuries may halt the growth in his right leg.
"The doctors said they hadn't seen an injury like this and it was like being in a head-on car crash," said Mr Durant.
The boy's family said free-standing display boards being used in an art exhibition toppled on him as he was waiting to go into a lesson on 19 September.
Morgan is staying with his older brother in his ground-floor flat in nearby Par while he recovers.
"He's still in a lot of pain but he's trying to keep a smile on his face," his father said.
A spokesman from the Health and Safety Executive said it was "aware of the incident and initial investigations had started".
The school has yet to respond to requests for comment from the BBC.