Cornwall mine-plunge man 'was saved by rucksack'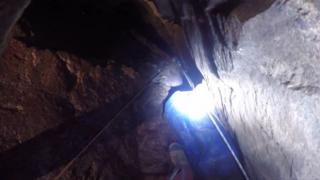 A walker who plunged more than 50ft (15m) down a mineshaft says a rucksack cushioned his fall and saved his life.
Andrew Williams, 51, from Wales, was trapped for hours after falling down the disused shaft near St Just in Cornwall on Sunday.
He said he was "amazed" he survived the fall which saw him end up on a narrow ledge.
Mr Williams was airlifted to hospital with a broken pelvis after a six-hour rescue operation.
More on the mine rescue, and other Devon and Cornwall news
Mr Williams had been walking with a group of people when he went to explore the mine opening in the Cot Valley.
But a wooden cover gave way and he fell onto the ledge.
He put his survival "down to a full rucksack that took the brunt of the impact and saving me from banging my head".
Rescuers led by volunteers Cornwall Search and Rescue brought Mr Williams to safety through a narrow "hourglass" gap.
He said the "professionalism and knowledge" of the rescue teams was "amazing" and thanked them for "without a doubt saving my life".
He had "many dark moments" during the ordeal but focusing on his family and friends "got me through it", he said.
Mr Williams has since undergone an operation on his pelvis at the Royal Cornwall Hospital in Treliske and said he would "hopefully be back walking soon".
Mark Grantham, of Cornwall Search and Rescue, said: "We're very happy, having seen Mr Williams at his lowest ebb, that he is now making a good recovery and we wish him well."