Police officer 'seriously assaulted' in Delabole arrest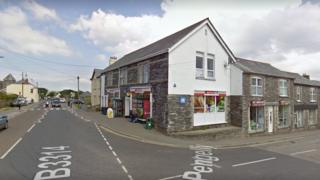 Three police officers were injured as they tried to arrest a man acting in a threatening manner in a Cornwall shop.
One is being treated in hospital after suffering a fractured ankle when it is understood that he was stamped on, Devon and Cornwall Police said.
He was joined by the other officers after calling for back-up at the shop in Delabole high street, on Tuesday.
A Delabole man, 45, was detained on suspicion of assault and resisting arrest, at about 18:00 BST.
More on the injured police officers and other Devon and Cornwall news
Supt Ian Drummond-Smith said the officers were assaulted, one "seriously", as they tried to detain the man at a Spar shop, he said.
"We expect him to make a full recovery," he said.
"But don't get me wrong that will take a few months so it's a fairly serious incident and perhaps the worst injury we've seen to a Cornish police officer for a couple of years," he said.