Hedgehog 'doused in lighter fuel' and left to die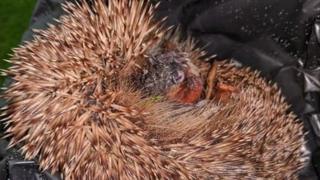 A hedgehog is thought to have been doused with lighter fluid and left to die in a park.
The female hedgehog was found in a park in Wadebridge, Cornwall, on Sunday with disposable lighters strewn around her.
Animal charity Prickles and Paws treated the hedgehog and said she smelt strongly of flammable liquids as she dried out on a heat pad.
The hedgehog died later on Sunday and police and the RSPCA charity are investigating.
For more on the hedgehog and other Devon and Cornwall news
Philip Mitchell, Wadebridge Town councillor found the animal "looking very forlorn" and took her to Prickles and Paws.
Diane South, from the charity at Cubert, said she gave the hedgehog fluids to try to flush through any poisonous liquid but the animal "deteriorated very quickly" and died.
Wadebridge Town Council member Amanda Pennington said she believed the incident was the culmination of a "summer of anti-social behaviour" in Wadebridge.
A spokesperson for the RSPCA said: "It is very distressing to think that people could take pleasure in causing such horrific injuries to a defenceless animal and heartbreaking to hear the hedgehog has sadly died as a result."
Devon and Cornwall Police said officers from its wildlife crime team were investigating.