Flash flood sweeps through Coverack in Cornwall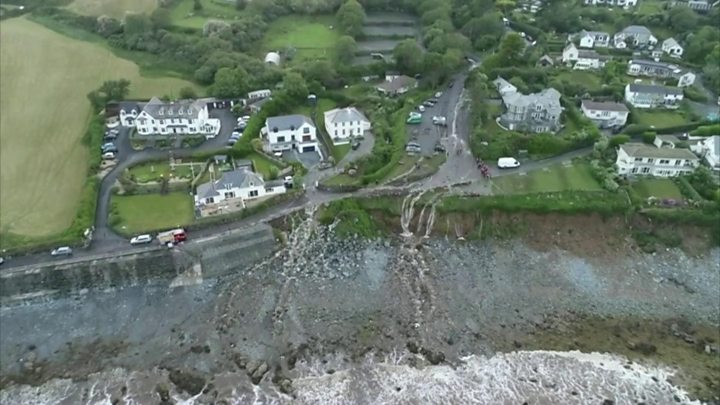 Flash flooding has seen torrents of water sweep through a Cornish village.
Residents in Coverack, on the Lizard Peninsula, reported roads being blocked and hailstones the size of 50 pence pieces smashing windows.
Heavy rainfall hit at about 15:00 BST on Tuesday and about 50 properties are estimated to be affected by the flooding, but no injuries have been reported.
Emergency services will meet at 09:00 BST "to coordinate the recovery phase".
Cornwall Fire and Rescue Service said its crews attended "multiple flooding-related incidents" and urged people to "avoid this area".
Latest on the flash flooding in Coverack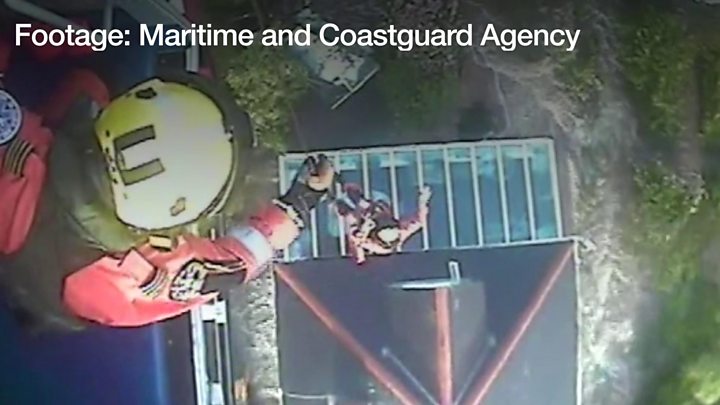 Cornwall Council said the first calls about the flooding were received about 15:40. One person was reported to be trapped in an outbuilding and six people were on the roof of their property.
A major incident was declared at 17:20 and the helicopter was deployed to rescue the people trapped on the roof.
'Flood of water'
A spokeswoman for the Maritime and Coastguard Agency said a helicopter was sent from Newquay.
She said: "Six people were in a house and two have been rescued from the house by helicopter."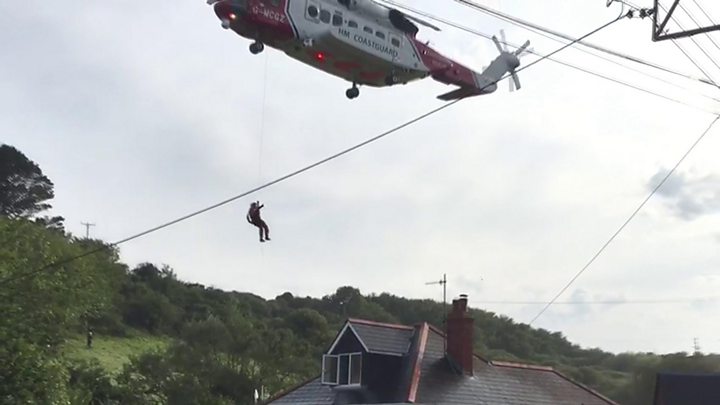 Karla Wainwright, who works at the Paris Hotel, said: "This afternoon we could tell it was going to get about stormy, then about 3pm it hit.
"There were hailstones as big as 50p pieces and a lot of small panes in our windows are broken."
Ms Wainwright said the storm continued for an hour and a half.
"Once it cleared off then we could see a massive flood of water coming down the main way into Coverack."
---
15:00 BST - Heavy rain moves in to the village of Coverack
15:40 BST - First calls to emergency services reporting flooding
16:30 BST - Hail storm hits the village
17:20 BST - Major incident declared and HM Coastguard helicopter scrambled
---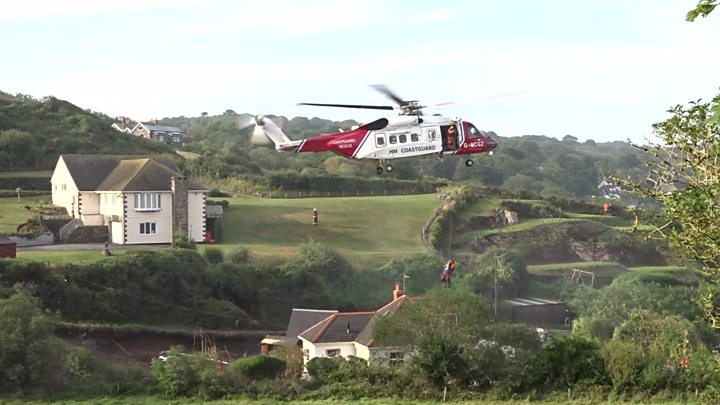 Bill Magill, who owns the nearby White Hart Hotel, said the water was "over a foot high" in some areas.
"It was nothing like I've ever known in this area, we were totally unprepared for it and it was totally unexpected," he said.
"[It was] racing down a little country lane, pouring over the banks like these waterfalls."
'Cut in half'
The Met Office said the flood followed heavy thunderstorms and rain in Cornwall and Devon on Tuesday afternoon.
Bill Frisken, a local councillor in Coverack, said he could not access the centre of the village because the main road was underwater.
Describing the speed with which the flood hit, he said: "It was almost instantaneous."
"The village has effectively been cut in half, you can't cross the river," he added.
Mr Frisken said he and his wife had to bail water out of their kitchen, while their garage was also flooded.
"It was several feet of water coming down and pouring into the house. The depth of water was immense."
Another witness said: "I have never seen such big hails. The sun was shining and the wind was blowing and it was hailing, all at the same time.
"It was quite amazing really."
A Cornwall Council spokesman confirmed some properties in the village and one of the roads suffered structural damage and are due to be inspected by structural engineers.
A local hotel offered accommodation to anyone unable to return to their home, while one elderly resident was moved to a local nursing home.
A meeting is due to be held for residents at the village's Paris Hotel at 11:30 BST on Wednesday which will be attended by council officers.
---