Newquay lifeboat rescues trapped pregnant woman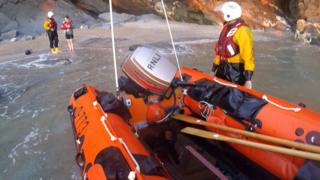 A pregnant woman who became trapped at the foot of steep cliffs by a rising tide was rescued when her husband swam to shore to raise the alarm.
The couple became stranded in a cove near the Barrowfields in Newquay, Cornwall, on Saturday evening.
The woman was rescued unhurt by the RNLI's Newquay inshore lifeboat, with the help of the local coastguard team.
A surfer, who had gone to the woman's aid before emergency services arrived, was also rescued.
An RNLI spokesperson said the lifeboat crew had to use the boat's emergency oars to gauge the depth of water and negotiate large submerged rocks in a one-metre swell to rescue the woman.