Jynal Khan fleeced OAP out of £35k in fake date scam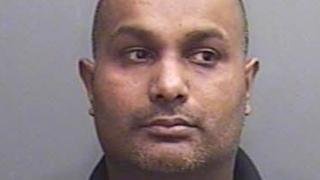 A 36-year-old man who fleeced a pensioner out of £35,000 through a fake dating profile has been jailed for two years.
Jynal Khan, of Hendra Road, St Dennis, Cornwall, admitted fraud.
Victim Geoff Hoyland, from Oxfordshire, had been using Facebook to look for love.
Truro Crown Court heard fake dating photos of an attractive Asian woman in her early 30s were sent to Mr Hoyland to get the money.
More on the fake date scam and others from Cornwall
Khan used words like "honey" in messages to reassure Mr Hoyland that he would be together with the fictitious woman.
In one instance the pensioner, who believed they would marry, paid £20,000 into a bank account to show the family of the fictitious woman that he was of a stable background.
Judge Simon Carr said Mr Hoyland was "at an emotional low" and "a sitting duck for exploitation".
He told Khan: "The victim was in his late 60s and a very lonely man.
"You deliberately manipulated his emotions."