Evidence migrants at Cornwall care homes were working illegally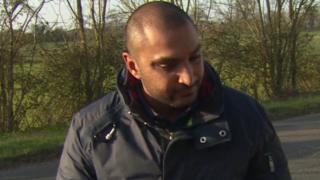 Bosses at a scandal-hit care home used a self-employment sham to bring in illegal workers, it has been claimed.
The Morleigh Group ran six homes in Cornwall which were exposed last year for "horrifying" levels of care.
A BBC investigation has revealed the group used recruitment agency Ucruitment to get workers from Croatia, who have restricted rights to work in the UK.
The agency and the care home owners have denied any wrongdoing.
The Morleigh Group closed one of its care homes following a series of damning inspections. The company's owner, Patricia Juleff has sold the other five.
Unwashed and in tears
Former resident Beryl Charlesworth told the BBC some of the workers were poorly trained and spoke little English.
She said carers were inadequately trained with some not sure how to empty her stoma bag.
"They wouldn't clean it, and they'd get it all over my pouch so I couldn't touch it and I'd be in tears and I'd say I haven't had a proper wash this morning.
"Lots of times it made me feel very sad. At the time I thought I'm never going to get out of this place."
Ana Maros was one of at least six Croations who worked for the Morleigh Group and were advised to set up as self-employed.
Croatia is a new member of the EU and self-employment is one of the only ways Croatians can legally work in the UK.
The BBC filmed Ucruitment at a job fair in Athens where they advised workers they could declare as self-employed to work legally.
But Ana failed to pay any tax when she was working in England and said her work was controlled by Mrs Juleff.
"You couldn't choose when you will work or not. They expect me to be always with my phone.
"And anytime they need me to answer on phone, which was - it wasn't nice it was really stressful."
'Providing a personal service'
Employment lawyer Jacqueline McGuigan said there was clear evidence of a self-employment sham.
"If they were genuinely self-employed they would not be working for one care home.
"They (the care home owners) would be saving tens of thousands in tax and national insurance, holiday and sick pay, training.
"They would simply be running their own business and perhaps having two or three care homes and deciding what they would do day-in and day-out.
"They're providing a personal service to one care home every day at the control of the care home owner so to me that is almost a no brainer - it's open and shut."
Ucruitment is run by Cyrus Ali who is also known as Ali Cyrus Zidane Mohammed and Salim Habib Mohammed Ali Shivji.
He and his wife were banned from being company directors after the Insolvency Service found they had cheated migrant care workers out of hundreds of thousands of pounds, for training they had promised but never delivered.
Ucruitment said all self-employed contractors, including workers from Croatia were legitimately self-employed and were fully compliant with all UK employment and immigration laws.
Owner Cyrus Ali said the agency facilitated introductions between clients and care staff.
Mrs Juleff denies any wrong doing.
She said: "Ucruitment were engaged to ensure that the said workers had the right to live and work in the UK".
The Morleigh Group homes' new owners, Cornwallis Care Services, believes the Croatian staff had no rights to work in the UK and have now "halted" their services.
Watch Inside Out South West's investigation on BBC One on Friday 31 March at 19:30 BST and on the iPlayer for 30 days thereafter.