Josh Clayton death: Tresco bar boss 'had row at party'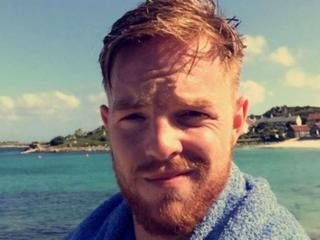 A holiday island bar manager had been in an argument with a group of Polish workers at a party on the night he went missing, an inquest has heard.
The body of Josh Clayton, 23, from Taunton, was found on rocks near Tresco in the Scilly Isles following an eight-day search.
Party-goer Leroy Thomas said he saw Mr Clayton "ranting and raving" and saying he was going to kill himself.
Mr Clayton's family broke down in tears at the inquest in Plymouth.
More from the inquest, and other news
The search started for Mr Clayton after he went missing on 13 September 2015.
His body was discovered 10 days later by a French yachtsman.
Mr Thomas told the inquest at Plymouth Coroner's Court that he saw the argument between the Polish workers and Mr Clayton outside The Shed party venue.
More than 40 seasonal staff on the privately-owned island were at the party.
He said he heard Mr Clayton say he had "had enough" and his bike was thrown into a hedge by the workers.
Mr Thomas said he went back to the scene later to look for Mr Clayton but could not find him.
Friends and colleagues at the party said "incredibly popular" Mr Clayton was "intoxicated" and "stumbling around" at the party.
The inquest continues.