St Blazey shotgun attack cat has leg amputated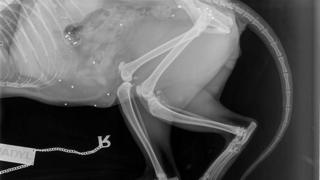 A cat has had to have its leg amputated after being shot.
Gringo's owners thought the cat had been run over when he returned home to St Blazey, Cornwall, badly injured.
His front right foot was so badly broken and injured that vets amputated the leg. More than 20 pellets from a shotgun remain in his body.
His owners were unable to pay vets' fees but Sally's Cat Rescue, based in St Austell, raised more than £1,200 towards his treatment.
Read more about shot cat and other Cornwall and Devon stories here
Sam Hawke, a volunteer at the centre, said: "He's such a gorgeous cat, he really doesn't deserve this."
"It makes you feel sick when you see something like this."