Cornwall Councillor Hanna Toms admits benefits fraud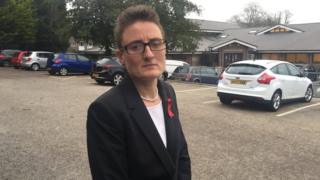 A councillor has pleaded guilty to two counts of benefits fraud that led to overpayments of more than £10,000.
Cornwall Councillor Hanna Toms, 40, did not tell the authority about a rise in income between 2008 and 2014 that affected her benefits calculations.
At Truro Magistrates Court she was sentenced to 40 hours of unpaid community work.
She says she admitted her "genuine mistake" two years ago and will not be resigning as a councillor.
Read more on councillor benefits fraud story and other Devon and Cornwall stories here
However, Toms, who represents Penwerris ward in Falmouth, has decided not to stand again at the next elections in May.
She resigned as the Labour group leader on Cornwall Council in February 2015 and the money has been repaid using a bank loan.
The current Labour group leader, Tim Dwelly said; "Councillor Toms was suspended immediately by the Cornwall Labour Group when charged and will no longer represent Labour at County Hall."
In a statement, Miss Toms said: "I was under the impression that as I had advised Her Majesty's Revenue and Customs of changes in my personal circumstances, this information would be passed on to Cornwall Council. I was wrong."
She added "I would like to publicly apologise to my family and friends, my constituents, my fellow councillors and to people in Cornwall for letting them down in this way."
A spokesman for Cornwall Council declined to comment on the case and said: "It's a matter for the Department for Work and Pensions and the councillor concerned."
The spokesman confirmed that Toms could continue as a councillor as there had been no custodial sentence and the conviction did not have any impact on her voting rights.