Newquay Airport plane crash death pilot was 'tired'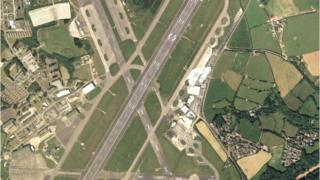 An experienced pilot was feeling tired when he fatally crashed his new plane, an inquest has concluded.
Tony Richards, 68, from Falmouth, died when his twin engine Piper PA-34 Seneca crashed at Cornwall Airport Newquay on 17 August 2015.
A jury concluded the death was an accident caused by impaired judgement due to tiredness and an unfamiliar aircraft.
He had flown the plane from the Czech Republic that day, the inquest heard.
After a failed landing, he attempted to climb but lost speed causing the plane to crash from 150ft (45.7m).
Read more about the plane crash inquest and other Devon and Cornwall stories
Andrew Howard, who was the air traffic controller on duty at Newquay airport said Mr Richards told him he'd had a "long day" and complained of having the sun in his eyes on approach.
The inquest in Truro, Cornwall heard it was his first solo flight without an instructor in the plane that he had purchased in the Czech Republic six days earlier.
The post mortem report found there was no medical reason for the incident and said he died from multiple injuries.
An investigation by the Air Accidents Investigation Branch (AAIB) found the plane was in good condition and "fully serviceable".
Margaret Dean from the AAIB told the inquest Mr Richards had already flown with an instructor from Pribram Airport near Prague to London Biggin Hill airport that day.
She said he rejected an offer from the instructor to accompany him on the next leg to Newquay.
The instructor had expected him to wait until the following day but Mr Richards decided not to.
Natalie Flitter and Daniel Stride who work at London Biggin Hill airport both told the inquest Mr Richards had seemed tired.