Cornwall care homes rated 'grim and unsafe'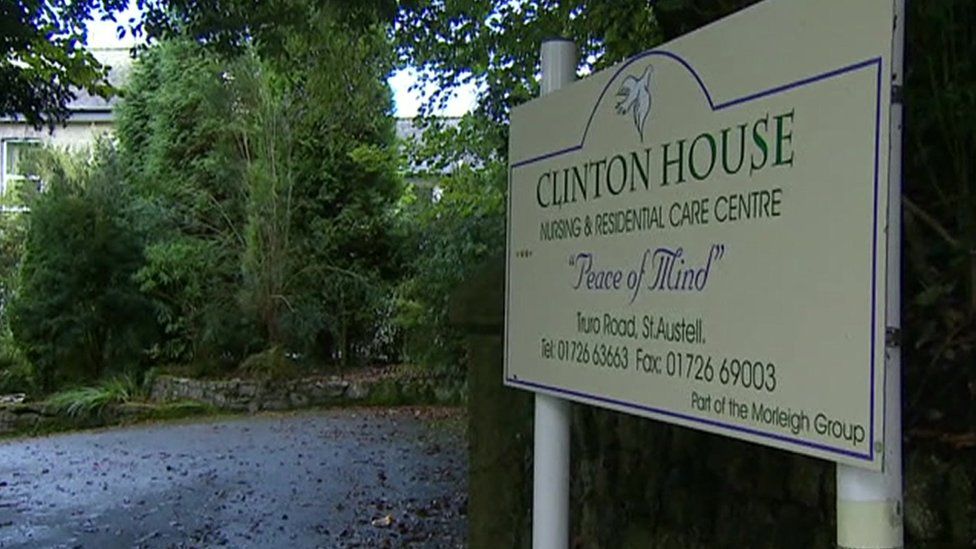 Reports on four private care homes where distressed residents were ignored and left without help to eat have been described as "horrifying reading".
The Care Quality Commission (CQC) found the homes in Cornwall "were providing grim, shoddy and unsafe care".
Undercover filming by Panorama showed one nurse saying she would give morphine to a resident "to shut her up".
The CQC inspected four homes, part of the Cornwall-based Morleigh Group, including Clinton House in St Austell, St Theresa's in Callington, Elmsleigh in Par and Collamere in Lostwithiel and rated them all 'inadequate'.
Andrea Sutcliffe, chief inspector of adult social care at the CQC, said: "These reports make horrifying reading - people in distress being ignored by staff; a person lying in a urine-soaked bed for two hours; people sat in the same chair all day with uneaten meals in front of them, and no help to eat or drink; someone needing medical attention waiting weeks to be referred to their GP.
"These services were providing grim, shoddy and unsafe care - the sort that no one should ever have to put up with. I am sorry that people have had to endure this poor level of care."
Patricia Juleff, owner of the Morleigh Group, said: "I would like to publicly apologise for the distress that our residents, their families and our staff have felt in recent weeks."
She said the group had carried out "a detailed review" which found "inconsistencies in medicine control, maintenance, (criminal record) checks and staff training that are now being addressed".
Mrs Juleff said she "completely disagreed" with Ms Sutcliffe's claim the Morleigh Group has "allowed" the services to seriously deteriorate.
The council apologised to residents of the homes and said what had been uncovered was "shocking and utterly unacceptable".
Devon and Cornwall Police confirmed it was involved in a multi-agency investigation. No arrests have been made.
Related Internet Links
The BBC is not responsible for the content of external sites.