A30 crash: 'Inexperienced driver' killed biker Matthew Smith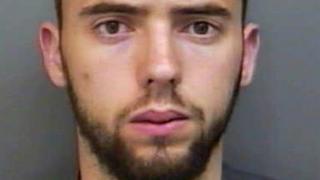 A man described as an "inexperienced driver" has been jailed for killing a biker in a crash.
Elliott Allen comforted biker Matthew Smith, 27, as he lay dying under his car on the A30 in Cornwall.
Allen, 22, of Elizabeth Close, Bodmin, was travelling back from Exeter with his pregnant wife and 18-month-old step-daughter at the time of the crash.
He admitted causing death by dangerous driving and was jailed for two-and-a-half years at Truro Crown Court.
Mr Smith died at the scene, near Altarnun, on 9 August 2015.
He was hit from behind by Allen, who was travelling back from a Christian festival.
For more on the motorcycle death story, plus other Devon and Cornwall news
A couple who had driven past the Mitsubishi 4x4 20 minutes before the crash said they saw the vehicle veer to the left and on to the grass verge.
They telephoned relatives who were a short distance behind them to warn them to take extra care.
'Inexperienced and overtired'
Investigators said there was no evidence Allen took any action to brake or avoid Mr Smith, who, despite drizzly conditions, would have been visible from at least 400m away.
Allen was described as an inexperienced driver, who drove little and was using a work car,
Sentencing, Judge Simon Carr said: "The simple reality was that Mr Allen failed to see a vulnerable road user who was there to be seen."
Outside court, Mr Smith's father Ian called for tougher sentences for dangerous drivers.
He said: "Mr Allen chose to drive even though he was inexperienced and overtired.
"Our lives have been changed permanently, and the penalties need to be much more severe and much more of a deterrent."