Owner of Cornish hotel wins £100,000 on Trump victory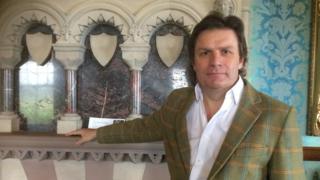 A hotel owner is more than £100,000 better off as a result of Donald Trump's presidential victory.
John Mappin from Cornwall said he knew two years ago Trump would win the US election.
He said he placed 35 bets over the course of the last eighteen months staking around £20,000.
The businessman says he only made his original bet so people would believe him when he said he knew it would be a Trump victory.
More on the Trump gambling story, plus more Devon and Cornwall news.
The odds of Donald Trump becoming President were 33-1 when Mr Mappin, 51, owner of Camelot Castle at Tintagel placed his first bet.
The businessman from Tintagel who said he had never gambled before claimed he was "absolutely certain" that Trump was going to win and "never wavered from that position".
He is yet to receive his winnings but expects to take home around £110,000.