Cornwall driver banned nine months after eye alert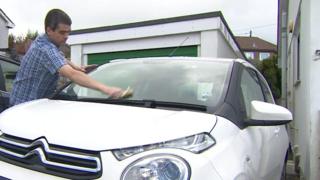 A driver who told licensing officials nine months ago of eyesight problems has just been banned from the road, despite now having recovered.
Kevin Trebell told the Driver Vehicle Licensing Agency (DVLA) in January, on the advice of his optician, that he had double vision.
But he heard nothing until Monday when he got a letter telling him his licence had been revoked.
The DVLA said it must "strike a balance between road safety and mobility".
Software engineer Mr Trebell, 45, from Lanner in Cornwall, has now complained and said he hoped to get a quick response as he relies on driving to get to work in St Erth, 17 miles away.
Complying with the law, he contacted the DVLA in January, using a V1 form to inform them of his vision problem.
"[But] I didn't hear anything back so I voluntarily took myself off the road for five or six weeks," he said.
"Then it got better and in April I was cleared by a doctor."
Having had no response from the DVLA originally, he said he did not inform them that he was able to drive again.
'Open to fresh information'
But, was "shocked" on Monday when he got the banning letter from the agency and has since forwarded a note to officials from his GP, which gives him a clean bill of health.
The DVLA declined to comment on Mr Trebell's case but said the "vast majority" of cases it handled were dealt with swiftly and correctly.
"Where we have revoked a licence, we are conscious that the situation may change and are open to fresh information being submitted to our medical advisors as part of a licence reapplication," a spokesman said.
Earlier this month, the Parliamentary and Health Service Ombudsman published a report that found "major failings" in the way the DVLA handled eight drivers' cases.