Care home worker Karen Pedley given 14 life sentences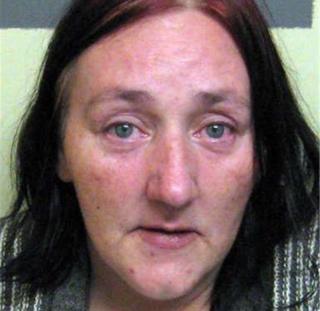 A "fire-obsessed" care home worker who killed a 96-year-old resident by setting fire to her room has been given 14 life sentences.
Karen Pedley, 43, from Carharrack, Cornwall, was found guilty of murder and 12 counts of arson at Truro Crown Court on Thursday.
The court had heard Pedley became "fascinated with fire" after saving her family from a burning house aged 10.
She will have to spend a minimum of 27 years in prison.
More on the "fire obsessed" care worker, and other news
Gladys Rowe died in hospital from the effects of smoke inhalation following the fire in Rosewyn House, Truro, in 2008.
'Fascination with fire'
As a girl, the court heard, Pedley lived in Bedfordshire with her family when she woke them in the night and saved them from a fire that gutted the house.
Prosecutor Nigel Lickley said she was rewarded for her actions with a trip on Concorde and he believed the incident in 1983 had caused her to develop a "fascination with fire".
'Turn back the clock'
He said police found a file of newspaper cuttings recalling the fire and the trip when they searched her home.
Defending, Simon Laws said Pedley might have been trying to turn the clock back to that "glorious day" in 1983 when aged 10 she saved her family from a fire.
Mr Laws said she never intended to kill Mrs Rowe, knew there was a working fire alarm, knew the midnight check on the residents was due and even tried to rescue the residents herself, but was driven back by the dense smoke.
Serial arsonist Pedley was also convicted of starting a series of fires between 2002 and 2010, including the one which killed Mrs Rowe.
Sentencing, Mr Justice Teare said: "It was totally remarkable that she continued to commit arson even after Gladys had lost her life".
As he handed her 14 life sentences, the judge said: "The public needs protection, which imprisonment for life can give".
---
Deadly obsession
The court heard Karen Pedley set fires in these buildings over the space of eight years:
2002 - Trefula House Nursing Home, St Day
2006 - Three fires at the Caharrack Social Club
2007 - Three fires at the Seafarers Centre, Falmouth
2008 - Rosewyn Nursing Home, Truro in which Mrs Rowe died
2009 - Caharrack Stores
2010 - Residential property, Caharrack
2010 - Residential property, Hayle
---
Pedley was found not guilty of attempted murder, but admitted one further charge of arson, after she set fire to her prison cell.
Speaking after the sentencing, Det Insp Ben Beckerleg said Pedley was a "dangerous lady, someone that has repeatedly put people in the local community at risk".
The court heard a psychiatric report showed Pedley was of "low intelligence and has a personality disorder".