Fire hero care home worker guilty of murder and arsons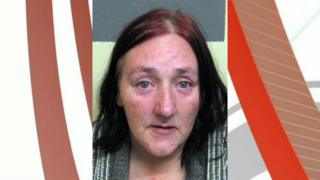 A woman who became "fascinated with fire" after saving her family from a burning house has been found guilty of killing a woman in an arson attack.
Karen Pedley, 43, from Carharrack, Cornwall, was found guilty of murder and 12 counts of arson by a majority verdict at Truro Crown Court.
She denied all charges and was found not guilty of attempted murder.
The care home worker started a blaze at her workplace which led to the death of one of the residents.
More on this case and other Devon and Cornwall stories
Gladys Rowe, 96, died in hospital of smoke inhalation following the fire at Rosewyn House in Truro in 2008. Her roommate was also hospitalised but recovered.
The court heard at the age of 10 Pedley was living in Bedfordshire with her family when she woke them in the night and saved them from a fire that gutted the house.
Prosecutor Nigel Lickley said she was rewarded for her actions with a trip on Concorde and he believed the incident in 1983 had caused her to develop a "fascination with fire".
He said police found a file of newspaper cuttings recalling the fire and the trip when they searched her home.
Simon Laws, defending, told the jury Pedley never intended to kill the women, knew there was a working fire alarm, knew the midnight check on the residents was due and even tried to rescue the residents herself, but was driven back by the dense smoke.
Mr Laws said his client might have been trying to turn the clock back to that "glorious day" in 1983, but killing two nice old ladies does not make you a hero, it makes you a villain of a very dark hue.