Medical director failings 'not misconduct', tribunal hears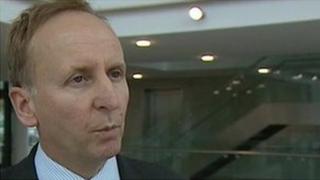 A medical director's failure to protect patients did not amount to misconduct, a tribunal has ruled.
Dr Paul Upton was found to have not taken appropriate steps against gynaecologist Rob Jones at the Royal Cornwall Hospitals NHS Trust.
More than 200 former patients of Mr Jones are taking legal action against the trust for the harm they say was done to them under his care.
The hearing said Dr Upton improved care standards during his time at the trust.
The Medical Practitioners Tribunal Service (MPTS) hearing in Manchester also noted there was evidence of "deficiencies" in governance systems when he came into the job.
'Misleading statements'
Mr Jones, who was part of the medical team that delivered former Prime Minister David Cameron's daughter, Florence, in 2010, was partially excluded from clinical practice in October 2011 amid concerns among his colleagues.
He was fully excluded from practice in April 2012 by Dr Upton. He later retired and voluntarily removed himself from the medical register.
The General Medical Council had claimed there were several missed opportunities under Dr Upton's leadership to take required urgent action against Mr Jones.
Among Dr Upton's failures identified at the tribunal were that he:
Did not obtain a report about complaints involving Dr Jones over concerns raised between January and December of 2010
Failed to promptly respond to fears from colleagues in November of that year
Made two misleading media statements regarding Mr Jones in February 2013
'Failing organisation'
It was argued by counsel on behalf of Dr Upton that the failures were "isolated and discrete shortcomings" and not "a pattern of behaviour".
The tribunal heard those shortcomings had to be considered "in the context of a dysfunctional department and a failing organisation", of which Dr Upton had taken steps to improve the governance and processes.
In conclusion, panel chair Gill Mullen said: "The tribunal has borne in mind that at the time that Dr Upton took up his post, the trust had received four weak ratings under the Standards for Better Health 2006-2009 and that, as a result of the actions he took, it proceeded to gain an 'unconditional' registration with the Care Quality Commission in 2010."
Dr Upton, who stepped down from his post in August 2013, had denied the allegations of misconduct.