Police car 'stolen from station and driven 230 miles'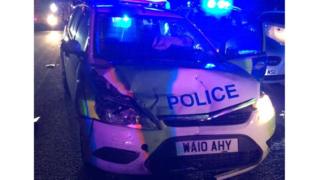 A police car was allegedly stolen from a police station and driven 230 miles before being stopped on a motorway.
Police said keys to the marked car were taken during a burglary at Camelford Police Station in Cornwall in the early hours of on Friday.
The vehicle was later spotted heading east on the M4.
A 23-year-old man and a 31-year-old woman from Camelford have been charged in connection with the incident.
Officers said they used a stinger device to bring the car to a stop near the junction 7 Slough exit.
More on the stolen police car, plus more Devon and Cornwall news