Cocaine yacht skipper death was suicide, inquest rules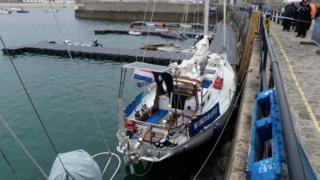 A suspected drug smuggler "jumped intentionally" from the mast of his yacht with the intention of killing himself, an inquest jury has ruled.
Christiaan Woestenburg, 62, climbed the 40ft mast as Border Force officers searched his yacht in St Mary's harbour on the Isles of Scilly.
The vessel Windrose contained 120kg of cocaine estimated to be worth between £8m and £18m, the inquest heard.
Cornwall coroner Ian Arrow recorded a suicide verdict.
More on the yacht death story and other Devon and Cornwall news.
The yacht had been towed to the islands by a lifeboat after suffering rigging and mast problems before being searched on 17 June 2013.
At the end of a four-day inquest in Plymouth, a jury ruled that the experienced sailor climbed the mast, falling between 25 and 30ft, with the intention of killing himself.
The jury was shown a short video from a mobile phone which showed Mr Woestenburg quickly clamber the mast before kicking out and falling to his death.
The 30-second clip was taken by boatman Ryan Sloane, who told the inquest: "The man jumped intentionally from the mast. I saw him deliberately kick away from it."
Home Office forensic pathologist Dr Russell Delaney told the inquest that Mr Woestenburgh had been sailing from South America en route to the Netherlands.
"He then jumped off the top and landed on the solid granite harbourside," he said
"He was immediately unconscious and unaware of what happened. The head injury was unsurviveable."