Microchip bid to save Bodmin ponies from starving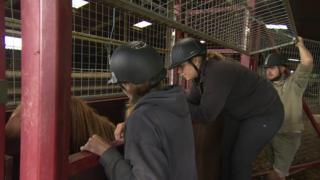 An operation to microchip moorland ponies in Cornwall is under way in a bid to save the animals from starving to death in winter.
The Bodmin Moor Commoner's Council said chipping would allow it to alert owners when sick ponies are found.
Any sick ponies will be rounded up in a holding pen by members and microchipped by a vet.
The council said it had helped rescue more than 100 ponies since January 2016.
Any pony not claimed by an owner will be re-homed at a horse sanctuary.
Click here for more on ponies and other stories
The charity said there was over-breeding and some owners were abandoning their animals.
Vet Nicholas de Brauwere said: "There are people who don't want to take responsibility and there are those who put food out for their ponies in the winter which is then eaten by everyone else's ponies."
Julie Dowton of Bodmin Moor Commoner's Council said: "We haven't been able to identify the owners of these ponies over a number of years and it's a big problem.
"By microchipping the ponies, we will now be able to remove those which have been abandoned much more quickly."
Overcrowding over the winter months meant there was often not enough food for the number of ponies on the moor.