Scuba diver drowns and girl injured in Cornwall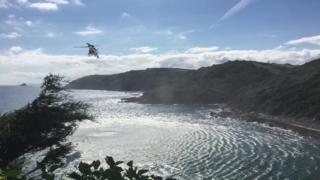 A scuba diver has drowned and a 12-year-old girl has been injured in the sea off Cornwall.
The diver, a man aged 45 believed to be on holiday with his family, died in the English Channel at East Portholland, St Austell, at about 17:00 BST on Tuesday.
Police said a 12-year-old girl was taken to Derriford Hospital by ambulance. Her condition is not thought to be serious.
Officers are informing the victim's next of kin.
More on the scuba diving incident, and other stories from Cornwall
Supt Ian Drummond Smith said: "The family involved were from outside the area and are believed to have been holidaying in Cornwall.
"This appears to be a tragic scuba diving accident and our thoughts are with the man's relatives and friends at this time."