Seagulls linked to woman's St Ives harbour wall fall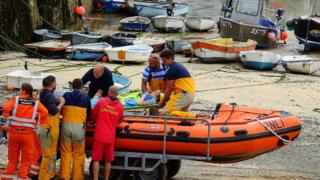 Seagulls may have caused an 18-year-old woman to fall 15ft (4.6m) off a harbour wall.
The teenager was airlifted to hospital with a suspected spinal injury after she fell off Smeatons Pier in St Ives, Cornwall, on Tuesday afternoon.
Harbour master Steve Bassett said she was sitting on the wall when she fell.
He said: "There were seagulls around and she was eating an ice-cream. It looked like she panicked and fell off the wall."
More on the rescue, plus more Devon and Cornwall news
An RNLI lifeboat crew and lifeguards supported the woman before the Cornwall Air Ambulance landed on the beach.
Rob Cocking, RNLI coxswain of St Ives lifeboat, said: "It was a case of right time, right place as the crew was walking back to the station from an earlier exercise and was on scene seconds after the incident happened.
"The crew and lifeguards worked well together to assist the woman, who was obviously shaken by what had happened.
"We wish her a speedy recovery."