David Curnow death: Charity football match in memory of murdered soldier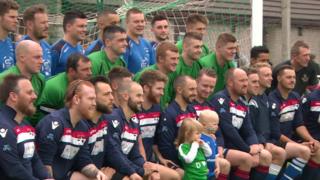 A charity football match has taken place in memory of murdered Cornish soldier David Curnow.
The 20-year-old had played football for West Cornwall FC and 4 Rifles Battalion in the British Army.
Mr Curnow died after leaving The Zone nightclub in Redruth on 21 September 2015.
The teams were playing for a trophy donated by Mr Curnow's family, with the 4 Rifles Battalion winning the match 2-1.
Hundreds of people showed their support and balloons were set off before the match in David Curnow's memory.
All money raised was being donated to the charity Care For Casualties.