Father William Coryn jailed for attack that left baby disabled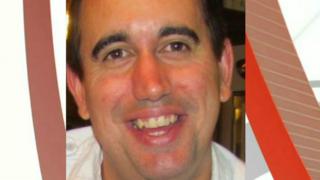 A father has been jailed for eight years for a brutal attack on his six-week-old son.
William Coryn inflicted "catastrophic life-changing injuries" on the boy while his mother was at the dentist.
The boy, now three, is severely disabled and will require full-time care for the rest of his life.
Coryn, 32, from Praze An Beeble, Cornwall, was found guilty of causing grievous bodily harm with intent after a trial at Truro Crown Court.
He lied to paramedics trying to save the boy's life by telling them the baby had choked on his milk and lost consciousness.
Coryn later admitted he had "shaken the hell" out of the baby but has never explained how Tyler sustained the fracture to his skull.
The boy now has cerebral palsy, hearing difficulties, epilepsy and is fed through a tube.
Sentencing, Recorder Julia Clayton, condemned Coryn for his attempts to conceal what he had done in the attack in March 2013.
The court heard the baby may not have been so seriously injured if the medical team had not been misled.
Judge Clayton praised the boy's mother, Lesley Morgan, for doing a "wonderful" job in looking after her son.
Speaking outside the court, Ms Morgan said of Coryn: "I hate him. He doesn't even deserve the title of father."
She said her son cannot walk or talk and will never be an independent adult.
"He will never run through the door and tell me he's getting married," she said. "But he is still smiling, despite everything he has gone through."