Tipton St John 'museum village' fears over school closure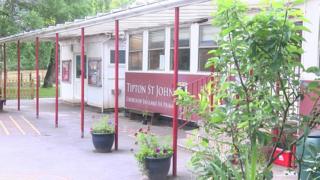 Parents fear they will be living in a "museum village" if a local school is closed.
Tipton St John Primary School, which has about 90 pupils, has been in the village for more than 200 years.
School governors are consulting on plans to move it to nearby Ottery St Mary after repeated flooding at the Tipton site.
Father-of-two Matt Davidson, 46, said: "It's the heart of the community and that's why we're fighting for it."
Mr Davidson said he and his family chose to live in Tipton over other villages "because there's lots of activity and that's based on the school".
"I want to be part of a community that is going places rather than stagnating," he said.
Parent Lorraine Simpson added: "We'd love to keep the community of Tipton St John going, and I feel the school is at the heart of that.
"It's not the solution for our village, or our children."
The Church of England school has been flooded on a number of occasions with children being evacuated and the school being shut.
The governors applied to the government for £3.5m to relocate the school within the village but this has been rejected.
The Department for Education said other schools had a higher priority. Consultation is for a new site in Ottery St Mary, about three miles away.
Chair of governors John Sherwood said "having exhausted every option" the "only remaining possibility" was a move to Ottery.
Schools authority Devon County Council said moving to Ottery would "mean we can provide more school places in the growing town where hundreds of new homes are being built".
Head teacher Colin Butler said: "We must secure a long term future for our school with the prospect of more frequent flooding as our climate changes."