EU Referendum: RAF veteran who bucked the voting trend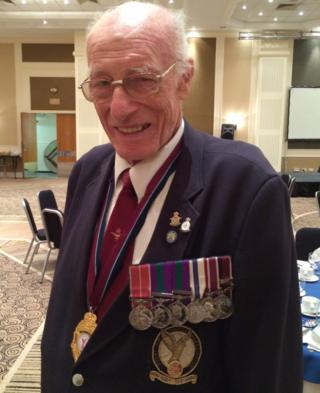 According to conventional wisdom, and statistics, an 86-year-old military veteran from Cornwall should be celebrating a vote to leave the European Union.
The figures from Thursday's referendum showed the older you are the more likely you were to vote Leave, while Cornwall followed much of England and Wales in delivering a convincing blow to the UK's EU membership.
Two days on from the big vote, Peter Paice - who served in the Royal Air Force for 36 years and took part in numerous tours in Europe - surveyed the result while attending an Armed Forces Day event.
He said he felt "really disappointed" at the decision to leave the EU after he and his comrades "spent so long trying to bring Europe together".
He voted against the majority in Cornwall, where 56.48% favoured an exit, and - according to a Lord Ashcroft poll - his age group, with 60% of people over the age of 65 wanting out.
Mr Paice said: "When we're in the European Union we can do our bit to change things. When you're outside of it then you can't.
"I feel like we're going backwards not forwards. We spent so long trying to bring Europe together. I just feel really disappointed."
Mr Paice, who joined the Royal Air Force for his National Service, worked as a carpenter before he became an engineer.
He said he is "very worried" about what leaving the European Union will mean for future generations.
"I know I'm reaching the end of my life so it's not going to affect me as much, but I'm so worried about the youngsters, what this could do to their future.
"We may lose Scotland and Northern Ireland now which would be a real shame. We live in Great Britain, they are two very big things that make it so great," he said.
The veteran, from St Austell, is President of the Royal Air Forces Association in Cornwall and was a parade marshal at military events until he needed a triple heart bypass in 2014.
His volunteer work led on to him receiving the British Empire Medal along with the Queen's Silver Jubilee, Meritorious Service Medal, Long Service and Good Conduct medal, as well as medals marking his time in Cyprus and Egypt.
"I am so proud to have been a part of the Royal Air Force for so long, I truly enjoyed every minute. We made a real difference, and I just hope that effort will continue to mean something."