Dr Paul Upton: Hospital misconduct tribunal adjourned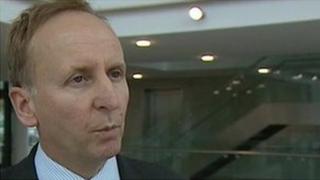 A tribunal into misconduct allegations against a hospital medical director has been adjourned until October.
Dr Paul Upton allegedly failed to take appropriate steps to protect patients from a risk of harm posed by gynaecological consultant Rob Jones.
Mr Jones helped deliver David and Samantha Cameron's daughter Florence in Cornwall in 2010 despite warnings to NHS chiefs he posed a risk.
The Manchester tribunal has withdrawn seven allegations with 18 outstanding.
Dr Upton was medical director of the Royal Cornwall Hospitals NHS Trust (RCHT) between 2009-2013.
Mr Jones, who worked at the hospital from 1997, was partially excluded from clinical practice in October 2011 following concerns expressed by senior colleagues.
He was suspended in May 2012 and retired the following October after it emerged he had continued to practise despite eight reviews into his work over a 12-year period.
Dr Upton, who stepped down from his post in August 2013, denies the allegations of misconduct.
A Medical Practitioners Tribunal spokeswoman said the hearing will reconvene on 10 October after "an unavoidable situation" resulted in a tribunal member being unable to sit in the coming weeks.