Bugaled Breizh: Court of Cassation closes trawler deaths inquiry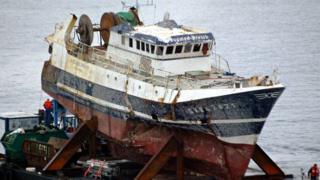 France's top judicial court has closed the inquiry into a trawler that sank over a decade ago off the British coast, killing five people.
The crew of the Bugaled Breizh drowned when it sank 14 miles off the Lizard peninsula in Cornwall in January 2004.
Relatives believe the trawler was dragged underwater when a submarine became snagged in its nets.
France's Court of Cassation said there was no evidence to support the claim, nor that it was a fishing accident.
The court's decision backed up the ruling by the appeal court in Rennes in May 2015.
A statement on the SOS Bugaled Breizh website. issued in response to the ruling. said the court's decision "does not stand up to a serious examination of the facts".
The sinking happened a day before Nato military exercises began in the area.
Timeline of events:
2007 - British and Dutch submarines were cleared by French court officials of any involvement in the sinking.
2008 - Inquiry concludes a nuclear submarine snagging the boat's trawl was the "highly probable cause" of the sinking, but the judges recommended the investigation be wound up, with no guilty party traced.
2010 - A French appeal court relaunches investigation to try to identify what US submarines were in the vicinity at the time.
2014 - The inquiry was eventually thrown out by a court in Nantes in 2014.
2015 - Appeal court in Rennes rules there was no evidence that a submarine was involved or that it was a fishing accident.
The bodies of two of the crew members were taken to Cornwall following the incident and therefore their inquests will be held in Truro.
The latest in a series of pre-inquest hearings into their deaths is due to take place on 18 July.