Weekly newspapers in Cornwall cut 12 jobs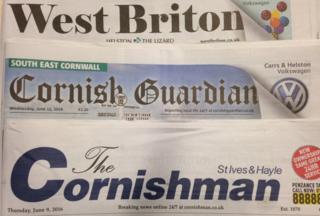 Twelve jobs are being cut at the biggest newspaper group in Cornwall.
The BBC understands 12 out of 44 editorial jobs will go at the West Briton, the Cornishman and Cornish Guardian.
One staff member told the BBC the cuts represented "a move towards fewer print journalists and more Twitter monkeys".
Owner Trinity Mirror - which took on the publications in November 2015 as part of a national deal - said it was "adapting to the changing landscape".
The planned changes include a merger for the websites of the three titles into one site for all of Cornwall.
All staff who want to carry on working at the newspapers - based in Truro and Penzance - will have to reapply for their jobs.
The National Union of Journalists said it was aware of the proposals and was awaiting further detail.
A spokesman for Trinity Mirror said: "We anticipate some redundancies but will also create a number of new roles aimed at improving the content we produce for all platforms."