MP Steve Double regrets behaving 'inappropriately'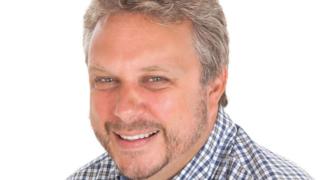 An MP who claimed to promote "the traditional fabric of family life" has publicly admitted to behaving "completely inappropriately".
The office of Conservative MP Steve Double issued a statement after what it called "speculation about Steve and Anne Double and their marriage".
In it, he said he regretted "the pain I have caused those closest to me".
The MP for St Austell and Newquay did not disclose the exact nature of his "inappropriate behaviour".
He claimed he would work "to recover the trust and respect of those around me".
Mr Double's office also issued a statement on behalf of his wife Anne which said she had been "deeply hurt".
She said: "After almost 30 years I am committed to making our marriage a success for our future."
In March 2015, Mr Double stated on his website: "The traditional fabric of family and community life is under siege as never before."
He said as an MP he hoped to "provide community leadership and support the structures that bind us together".
Mr Double said he has "been involved in local church and charity work for most of my life including 12 years as a pastor".
He became an MP in May 2015 when he won the seat from Liberal Democrat Stephen Gilbert with a majority of more than 8,000.