NHS Kernow seeks cuts in £57m overspend fear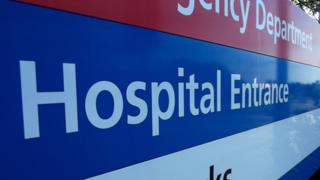 Three hundred local NHS support services are being reviewed as health commissioners in Cornwall try to tackle a £57m predicted overspend.
NHS Kernow confirmed it was looking at small service providers with contracts of £1m and under amid a "serious and challenging financial position".
There are fears projects like support for stroke sufferers might be closed.
NHS Kernow said no decisions had been made on what services would be affected.
Click here for live updates on this story
It ended the last financial year £17.4m overspent on its £730m budget.
By Jenny Walrond, BBC SW health correspondent
Throughout the NHS and particularly in the South West there is increasing analysis of what value-for-money services are providing.
Neighbouring commissioners NEW Devon have been put into a "success regime" which is also re-evaluating what health services are provided. Both tell us that they're not ruling anything out yet.
Inevitably there will be cuts and inevitably they will be unpopular with the people who currently benefit from those services.
"With increasing costs and needs, if we do not act quickly, our projected deficit will reach £57m by the end of 2016/17," it said in its last financial report.
Dr Iain Chorlton, chairman of NHS Kernow, said it was "working closely" with patients, clinicians and staff.
"We continuously review services to ensure that they provide the best possible clinical outcomes and value for money, based on the needs of the population and the money we have available to spend," he said.
"No final decisions about smaller service provision have been agreed, but we want to be up front; there is the potential for some to end or be downsized."
Stroke survivor Caroline Wilcock from Pensilva said: "We need support because our brain is affected and it is going to take time for us to get back to normal life again.
"It is very important that we do have support."