Cornwall church rift over wind turbines plan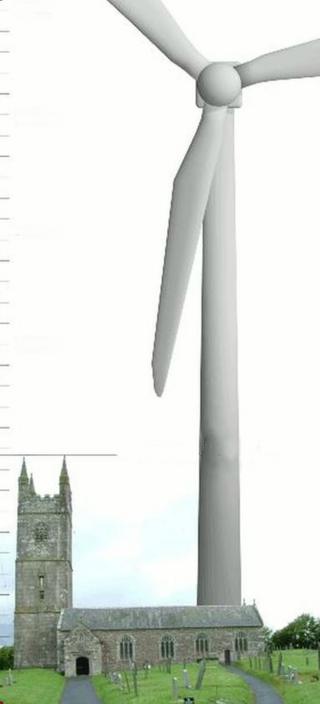 New plans for a wind farm have caused a split among church leaders and parishioners.
A move by renewable energy firm Good Energy to build 11 turbines 125m (410ft) high at Bude, was turned down by Cornwall Council two years ago.
Good Energy has come back with a plan for an unsubsidised wind farm and has the backing of the Diocese of Truro.
But the local vicar says he and other parishioners are "passionately" against the plans on landscape grounds.
Click here for live updates on this story
The planned site for the Big Field Wind Farm is on farmland between the villages of Week St Mary, Jacobstow, Warbstow, North Petherwin and Whitstone.
The Rev Tony Windross said the turbines would affect the landscape, including the Grade I listed St Anne's Church at Whitstone.
"The diocese is in favour of renewable energy and I support that," he said. "But I think it's completely inappropriate because of its scale and location. The vast majority of people who I have come across are passionately opposed to it."
The Archdeacon of Cornwall, the Venerable Bill Stuart-White, who chairs the diocese's environment group, said: "There's a view that the wind turbines are quite graceful and slender."
The group said in support of the appeal that "issues of visual impact are largely subjective" and the "substantial harm that is of far greater significance is that inflicted on the planet by the impact of global warming, caused in no small measure by our reliance on fossil fuels".
The new planning application is being considered by a planning inspector who is expected to report in several months time.