Report criticises 'bullying' culture at NHS Kernow in Cornwall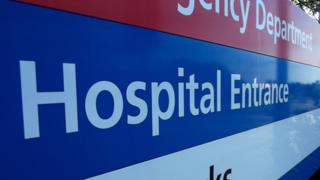 A health group has been criticised over "evidence of a culture of bullying and harassment" and "an overall failure of governance".
A series of failings were identified at NHS Kernow in Cornwall, which is already being scrutinised over mounting debts.
The clinical commissioning group has been under legal directions from NHS England since December.
Chairman Dr Iain Chorlton said he was "confident" patient care would improve.
"Importantly, the report acknowledges that we had already recognised many of the issues raised and were taking steps to address them before the review", Dr Chorlton said.
The capacity and capability report described "confusion and dysfunction" and a "lack of operational grip" among the group's leadership,
It also highlighted low staff morale, and said "challenge and feedback is not always welcome".
Analysis: Tamsin Melville, BBC South West Political Reporter
NHS Kernow is grappling with a deficit it predicts could reach around £50m by the end of this financial year.
It points to particular issues such as overspend on individual packages of care for patients with complex needs, and insists its work to integrate services with partners will start to ease budget pressures.
The organisation's already being scrutinised by NHS England, but this highly critical report into its leadership and governance can only add to its woes, with campaigners warning that unless there's rapid improvement it could lead to regulators stepping in and taking over as seen in North, East and West Devon last year.
However, it acknowledged that bosses had already begun to address communication problems, and highlighted the "continued commitment from staff working in difficult circumstances".
The health group, which has a £700m annual budget to buy health services for patients in Cornwall and the Isles of Scilly, was ordered by NHS England in December to draw up a recovery plan when the scale of its financial problems became clear.
The group had previously said it was expecting a £57m deficit by the end of the current financial year.
In January, NHS England commissioned the report, which examines the period from the launch of NHS Kernow in April 2013 up to January 2016.
Joy Youart, the managing director of NHS Kernow since its launch, was suspended from her £150,000-a-year role in February 2016.
The health group does not name her in the report, and has not linked the report to her suspension, nor the ongoing internal investigation.
Ms Youart declined to comment, but has previously said NHS Kernow has confirmed her suspension does not imply any wrongdoing.