Teenager 'lucky to be alive' after Isles of Scilly boat crash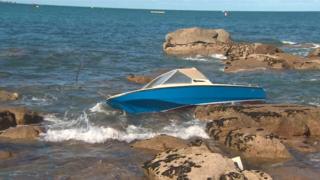 A teenager was taken to hospital after his boat crashed into rocks on the Isles of Scilly.
The 19-year-old was found lying on rocks close to the harbour and was taken to Royal Cornwall Hospital by helicopter.
He has now been discharged. Isles of Scilly Police said the man was "lucky to be alive".
The collision was heard by officers, who were already concerned about the man's safety.
Sgt Colin Taylor said the entire harbour was lit up with flares.
He said: "It looks like they crashed their boat - we don't quite know the circumstances - but ultimately they were helicoptered away.
"They're very, very lucky to be alive quite frankly."
No further action is being taken by police.