Cornwall loggerhead turtle: Stranded Tallulah heads to Mediterranean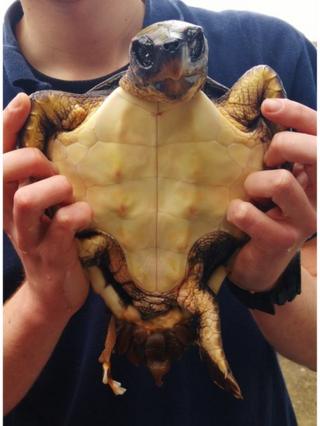 A rescued sea turtle who defied fears she would die after being stranded on a beach is to be released into the Mediterranean.
Barnacle-encrusted Tallulah was washed up at Gwithian in Cornwall on 6 January.
The loggerhead turtle was very weak and dehydrated but has been nurtured back to health by the Blue Reef Aquarium in Newquay.
Now she is to get a lift on an Irish Navy ship to warmer seas off Gibraltar.
Tallulah is thought to have been washed ashore in storms after being swept along by currents from the Caribbean.
The turtle, who was named by aquarium staff, was found with a large number of goose barnacles attached to her shell.
"She was almost like a dead animal," said Steve Matchett from Blue Reef.
"Tallulah's rescue and recovery has already been little short of a miracle."
It would be too cold to release her in the UK, so staff have sent her to Oceanworld in Dingle, Ireland, from where she will be shipped with another rescued turtle Una to Gibraltar.
The Irish Navy, which is carrying her for free, has taken a number of other turtles from Oceanworld in the past.
The 2,000-mile sea journey south towards Gibraltar is expected to take place next week.
Once there, sea temperatures and currents will be checked and, once they get the final go ahead, the turtles will be carefully released back into the wild.
Mr Matchett, said: "She could go further into the Mediterranean or catch a ride back on the Gulf Stream to warmer waters.
"We hope, one day, she will return to the beaches she was hatched on to lay her own eggs."