Massive NHS Kernow debts spark health cut fears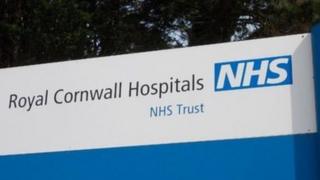 Massive debts faced by health bosses in Cornwall have sparked fears about "big hits" to front-line services.
Clinical commissioning group (CCG) NHS Kernow has revealed it could end the current financial year £57m in debt.
It says it is "no secret" there are funding challenges and it is working hard to develop "robust plans" to improve its finances.
The CCG is responsible for "buying" hospital care, mental health services and GP out-of-hours services.
Dr Iain Chorlton, chairman of NHS Kernow, said: "We know what the financial issues are and are putting plans in place to address them to ensure the local system is sustainable in the future and delivers high quality care.
"NHS England is providing additional support to help us put our finances on a firmer foundation to achieve this."
He said inflation, population growth and older people living longer and with complex care needs contributed to budget pressures, meaning the CCG is having to deliver "more from every pound we spend".
"It's no secret that there are funding challenges in the NHS and with increasing costs and needs, if we do not act quickly, our projected deficit at NHS Kernow will reach nearly £57m by the end of 2016/17," he said, adding that the scale of the deficit was such that a "major transformation" was required.
This would include plans to "integrate services to reduce duplication".
But Candy Atherton, who sits on Cornwall Council's health scrutiny committee, said the plans include looking at care in the community, 1,800 of the most expensive patients as well as "bricks and mortar" - which she believes will be local community hospitals.
"I think there will be cuts across the board, but these are the areas where they've told the committee they're looking to make 'big hits' and as a committee, we're very, very worried," she told BBC News.
"I also understand that if Cornwall doesn't put these cuts into practice, then a team from Whitehall will come down and impose the cuts on us... and that doesn't feel like localism to me, it feels like a threat."