US sailor rescued nine times sells boat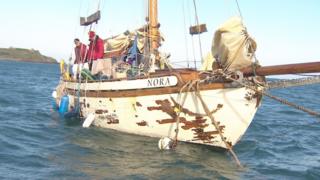 The infamous boat from which two US sailors were rescued nine times as they sailed from Norway to Cornwall has been sold.
Steve Shapiro, 71, said he decided to sell "Nora" because it "wasn't as comfortable as it could be".
Veteran sailor Sir Robin Knox-Johnston told Mr Shapiro and fellow sailor Bob Weise to "get the hell out of our waters" in January.
Mr Shapiro said the selling price was a "private matter".
Rescue teams from Norway, Scotland, Ireland and Cornwall had been called out to different incidents involving the duo since they set off from Norway last July.
---
Round-up of rescues
Two rescues by Norwegian and Danish teams, once when the propeller shaft was damaged and the second time when the battery failed
Two rescues in Scotland after running aground and having more propeller problems
They were assisted in Northern Ireland when the vessel ran aground
They called a lifeboat when the boat ran aground in the Republic of Ireland
Two rescues in Cornwall, after a mechanical problem and when one of the men got into difficulty rowing to the yacht
The ninth callout was made when the boat tipped over causing a fire on board
---
The pair had planned to sail the boat to the US, but Mr Weise quit in February due to "personal reasons", Mr Shapiro said.
Dartmouth-based yacht brokers, Wooden Ships, confirmed it had sold the boat which was moored at Hayle harbour about two weeks ago.
Undeterred by the saga, Mr Shapiro said he had bought a 40ft (12m) yacht in the US state of Maine and planned to sail the east coast of the US with friends.