Esmee Polmear: GP unaware of girl's fatal condition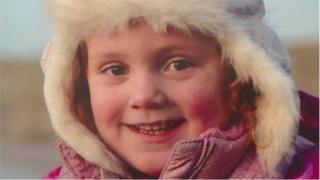 The GP responsible for a seven-year-old girl who died unexpectedly had never heard of the rare lung condition which killed her, an inquest has heard.
Esmee Polmear died at the Royal Cornwall Hospital in Truro in July 2015 after collapsing at school.
A post-mortem examination in October 2015 revealed she had been suffering from pulmonary veno-occlusive disease.
The inquest, in Truro, ruled on Wednesday that Esmee died of natural causes.
Dr Robert White told the hearing he had never come across the condition in his career.
"I had never heard of it until the death of this child," Dr White, of St Agnes Surgery, said.
Breathlessness
He told coroner Dr Emma Carlyon an oxygen saturation test would not have necessarily picked up low levels of oxygen as Esmee often looked pink and well when at the surgery.
Esmee died in the Royal Cornwall Hospital on 1 July 2015 after collapsing at Perranporth School
A post-mortem examination in July 2015 proved to be inconclusive
A second post-mortem in October 2015 revealed Esmee died from pulmonary veno-occlusive disease which affects about one in 10 million people
Her parents say doctors told them not to worry about Esmee's health in the two years leading up to her death.
Teacher Eleanor Smitheram, from Perranporth School, said she was told by Esmee's parents there was nothing physically wrong with Esmee but her breathlessness worsened over time.
Speaking about the day of her death she said: "She rested her head on my shoulder which was unusual as she didn't like to be touched when she was struggling to breathe.
"Her head then lulled back and she appeared to have a seizure."