Newquay airport's £5 fee ends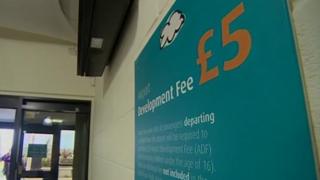 An unpopular £5 airport development fee has ended, following criticism from airlines and tourism bodies.
Since 2006 all passengers departing from Newquay airport aged 16 and over have had to pay the charge.
Airline Ryanair said the "significant fee" was a reason for pulling its flights from Newquay in 2011.
Ryanair agreed to return to the airport after Cornwall Council confirmed in September it would scrap the fee.
Malcolm Bell, head of Visit Cornwall, has said scrapping the "disliked" fee will be good for tourism.