Driver jailed after Lizard crash with eight inside car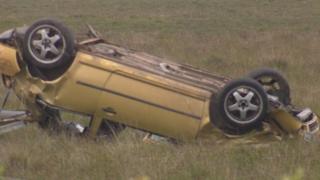 The driver of a VW Golf which flipped onto its roof with eight people inside has been jailed.
A woman travelling in the boot of the hatchback lost her sight in the crash near the Lizard, Cornwall.
Driver Christopher Ensink, 28, from Kuggar near Helston, previously pleaded guilty to dangerous driving and causing serious injury to five passengers.
Ensink, who said he was unaware two people were in the boot, was jailed at Truro Crown Court for 18 months.
Judge Simon Carr heard "many" bottles of alcohol were found at the scene of the crash at Goonhilly Downs just after midnight on 27 June last year.
Ensink had drunk alcohol but was not charged with drink driving.
He was also banned from driving for three years.