Nets warning after Banff fishing boat capsize off Scilly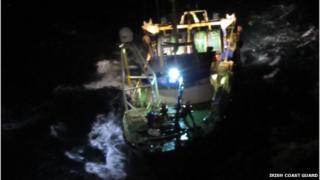 A warning has been issued to fishing boat skippers about the dangers of trying to recover lost nets following the sinking of a trawler.
The Kairos, from Banff, Aberdeenshire, was fishing in very rough conditions 70 miles west of the Isles of Scilly when it lost its nets last May.
The crew tried to recover them but the boat developed a list and capsized.
The Marine Accident Investigation Branch said in a report the capsize was from the attempts to recover the net.
The five-man crew abandoned the vessel, boarded a life raft and were picked up by another fishing boat.
The 46-year-old skipper fell into the sea but was quickly rescued.
They were then taken ashore in Ireland and no-one was injured.